EMC Graduate Scheme Social Media Campaign
With increasing amount of work, EMC launched their Graduate Scheme. Due to my experience with social media management and content creation, I was asked to take responsibility for the production and launch of the EMC Grad scheme across social media. I split the planning and production process into 4 stages.
Relevant Skills
Animation and Graphic Design

While the obvious goal was to increase applications to the graduate scheme, the hope was to use the campaign to show company growth across social media and increase engagement.

From research it was apparent prospective applicants want clarity of information, resulting in the decision to include the salary, requirements and job benefits in the launching post. LinkedIn and Instagram were our main focus for this campaign due to the demographic being aligned to our target audience.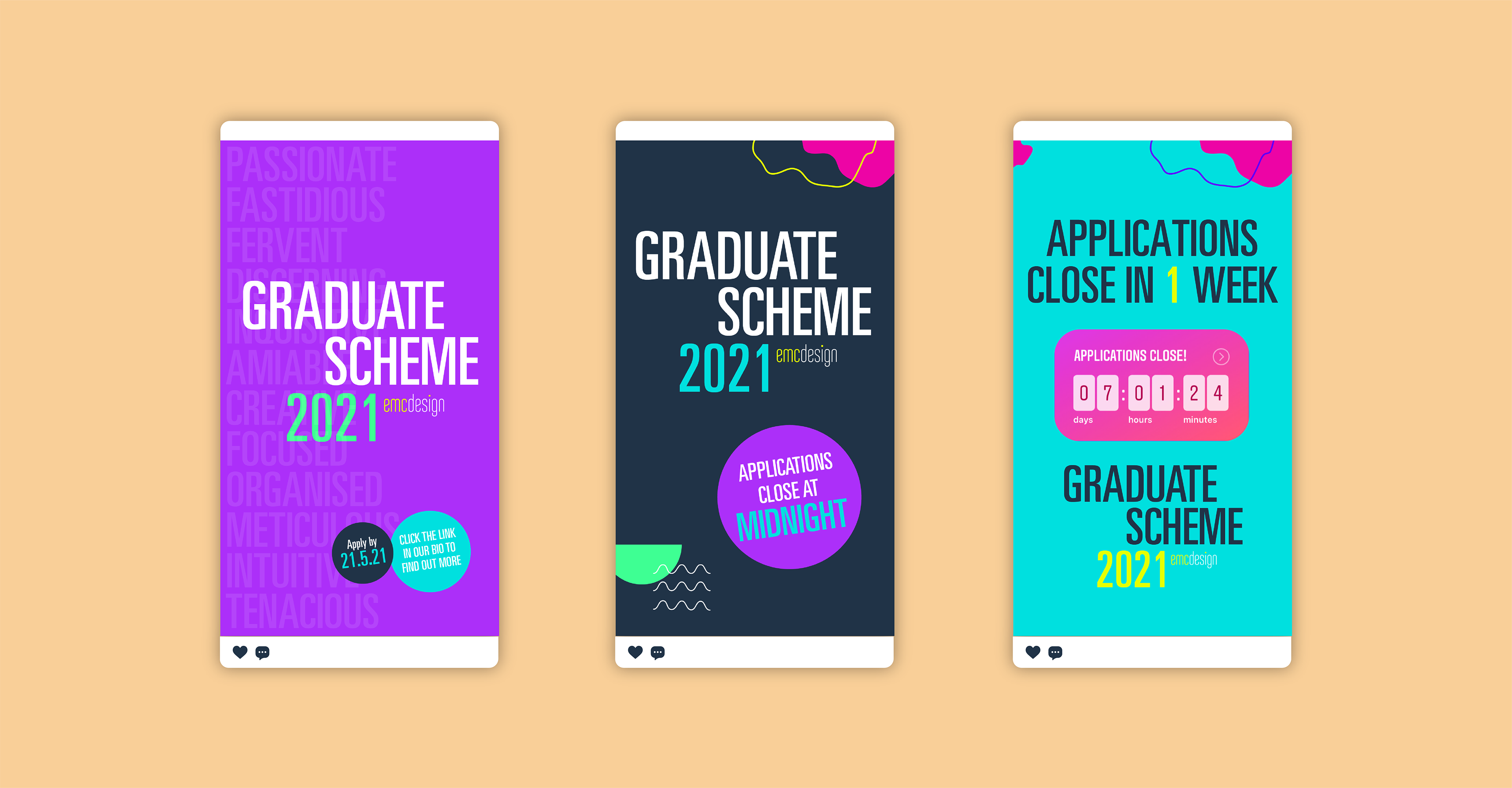 With the grad scheme being open for a month, I decided to allow for two posts a week for Instagram and Linkedin and one post for alternative social media outlets such as twitter and Facebook.

The style followed the grad pack sent out to applicants. It is intentionally bold with use of RGB to attracted young creatives.
A mixture of static content and animated content is used. Animated content allows for large amounts of information to be presented. It is also believed motion graphics receive 3x the engagement of static content. With this in mind, I made the obvious decision to use an animation for the campaign launch, to drive engagement but to also present all the required information quickly.

This campaign saw great results across EMC's social media; for example the Instagram page saw an increase in accounts reached of over 1,000% against the preceding month, as well as an increase in profile visits of 400%. Furthermore, the core goal was achieved as three applicants were employed as a result of the campaign.